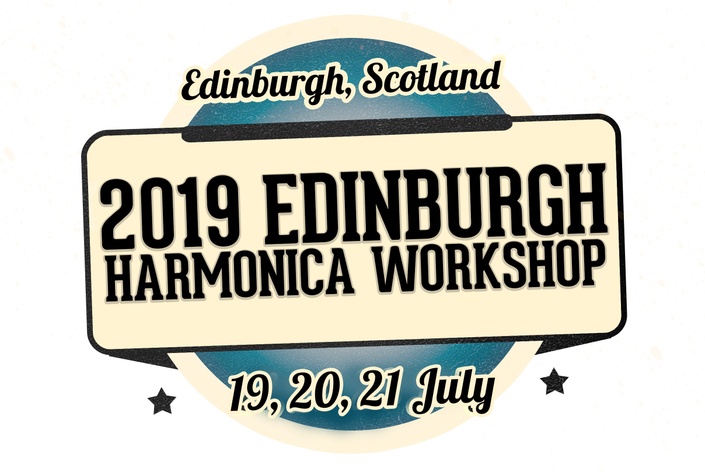 2019 Edinburgh Harmonica Workshop
19th - 21st July 2019
I am very excited to announce that we will be running the Edinburgh Harmonica Workshop again in 2019 from 19th - 21st July and hope that you will be able to join us.
Four excellent teachers
The weekend will feature performances and workshops led by Lee Sankey, Ronnie Shellist, Tomlin Leckie and Liam Ward.
Lee Sankey will be focussing on making your harmonica playing more groovy with awesome rhythm and timing ideas. He will also be giving a Country Blues primer!
Ronnie Shellist is going to present some workshops on Advanced Bending, 3rd Position Blues Phrasing and Blending Techniques to get great textures and sounds on the harp.
Tomlin Leckie will present workshops on Blues Basslines, Minor Blues Playing and practicing with Backing Tracks.
Liam Ward will introduce us to Jug Band style playing as well as material from his excellent new album "Uprising".
Opening Night Performance
The whole events kicks off on 19th July at 7pm with a performance featuring all the teachers and the stellar house band at The Voodoo Rooms.
Workshops
Workshops run from 10 am till 5 pm on Saturday and 10 am till 3.15pm on Sunday which means that you will be able to attend seven different 75 minute workshops over the weekend. There will be 14 different workshops to choose from.
Q and A Session
On Sunday afternoon there will be a Q and A session with all the teachers so you can find out everyone's opinions on the same topic.
Jam Sessions
There are multiple jam sessions over the weekend including a full band electric jam session at the world-famous Voodoo Rooms - everyone will get a chance to play with the amazing house band!
Only 80 tickets!
So that you get plenty of time with the teachers there are only 80 spots over the weekend and we do usually sell out so don't leave it to late to book.
Ticket cost
Tickets for the weekend are £250.

Full Workshop Details...
Ronnie Shellist Workshops
Advanced Bending
In this class we will discuss various ways to sharpen your ability to accurately land on semi tones (1/2 step bends),as well as how to slowly move bends higher and lower with total control as you move through microtones. Along the way, we will also discover some fun exercises for improving your bends and understanding how to instantly move around more musically with them. We will use a C harmonica for this class.
Blending Techniques
For this class, we will first work on single note phrases, riffs etc. Then, we will work on substituting notes to a textured sound such as an octave, double stop, vibrato, warble and so on. By bringing in multiple layers of texture and techniques into your playing and combing some of those techniques, your playing will have much more depth and move beyond the one dimensional realm of single notes.
3rd Position Blues Phrasing
In this class we will ear train 3rd position licks and explore phrasing various ideas over the I, IV and IV chords. We will begin with some review of the 3rd position scale work; as well as the root notes for the I,IV & V chords. We will use an A harmonica for this class.
Liam Ward Workshops
Modern Blues Harp Song Study
Learn licks, tips and tricks from Liam's new album of original harp-driven rhythm & blues.
V-IV-I Licks You Need to Know
Get to grips with some handcrafted phrases of all levels and learn to navigate the trickiest bit of a 12 bar blues.
Jug Band Music & The Humble Harmonica
Journey into the quirky and distinctive world of jug band music and learn to play some classic songs along the way.
Lee Sankey Workshops
A note from Lee...
"Background to my 2 Timing Skills Workshops
I'm looking forward to being part of the 2019 Edinburgh Harmonica Workshop. Two of my workshops concern what I believe is the single most overlooked area by harmonica players, timing. From my perspective this is the main area which prevents intermediate players especially from improving.
Timing is fundamental to playing music whether its a song or something more improvised. Timing effects your ability to carry a tune, to lay down a groove and to play interesting solos. But as a harmonica player, without it, you are missing one of the best elements of the instrument. It's perfect to play solo without any backing or in stripped back setting. To do this requires solid timing skills.
As well as hearing so many harmonica players who are not able to improvise through a 12 bar blues confidently on their own, a lot of harmonica playing I hear is what I describe as very linear or square to the beat. One of the reasons players such as Little Walter, Jason Ricci or Kim Wilson sound so interesting is not only their choice of notes, but their timing! Where notes are placed in relation to the beat. So exploring time is a great way to unlock improvisational possibilities rather than just thinking about note choice. After all, we are all using the same notes, so where's the magic come from?
The purpose of my two timing workshops is to give you new ways of practising to improve your timing, new techniques to apply straightaway, open doors to new phrasing ideas and ultimately help you be a better harmonica player. I aim to deliver content that you can work on in the weeks, months and years to come.
See you in Edinburgh! "
Timing Skills for Blues Harmonica Players 1: Building Timing Skills Using 4 Bar loops
This workshop will give you new ways to practise your timing skills as well as some techniques to help make your playing less linear and therefore more interesting. We will use a 4 bar sequence to establish the idea of looping through cycles maintaining structure and time. Then we will use this sequence as a vehicle to explore timing ideas such as target notes, pushes and dwell time. As well as learning ways to build up timing skills you will see how subtle timing changes have a transformative effect on a grove or phrase. We will take something elemental and make it sound very cool simply by looking at timing.
Timing Skills for Blues Harmonica Part 2
In the second timing workshop we will take things up a level by adding more complex phrases to our 4 bar sequence. You will learn how to use target notes to resolve phrases accurately in order to main structure and time. We will further challenge our timing skills by applying lead in phrases to our 4 bar sequence. I'll show you how to use splicing to get into the feel of a phrase. We'll also look at one of my favourite techniques which I call a "push and hold".
Country Blues Primer
The diatonic harmonica, despite it's small size and melodic limitations, is a multi-dimensional instrument. It can play rhythms, chords, melodies and other percussive sounds. All these elements come together magnificently in country blues harmonica. It's a genre which brings out the best in the instrument and is so satisfying to play. In this workshop I'll be covering the foundations to start playing this style of harmonica. We'll go through foundational breathing control, the nuances in playing a county rhythm and the importance of tonal variation. We will then apply these skills in two country rhythms, including how to utilise tongue blocking.
Tomlin Leckie Workshops
How to Play With a Backing Track and Why it is Good for You!
Lots of people struggle with timing and following chord changes which is why it is great to practice with backing tracks. In this workshop I'll show you how to start using a backing track to train your ears and your rhythm so that you become a better improviser!
What is a Minor Blues and How to Play One
Many students assume that Minor Blues means 3rd position playing but in actual fact Minor Blues are just minor blues. You can play any position you want (as long as you don't play the wrong notes!). In this workshop I will be showing students the difference between a Minor and Major blues. I'll also show you how you can apply 2nd position to Minor playing.
12 Bar Blues Bass Lines as a Basis for Improvisation
Bass lines are an excellent jumping off point for improvising over a 12 Bar Blues. We will be looking at the Box Shuffle, Boogie and Rhumba-style bass lines in this workshop. I'll show you how you can apply them to your solos.
Any Questions?

If you have any questions just send me an email to [email protected]
Check out our lovely sponsors!
Blowsmeaway Harmonica Microphones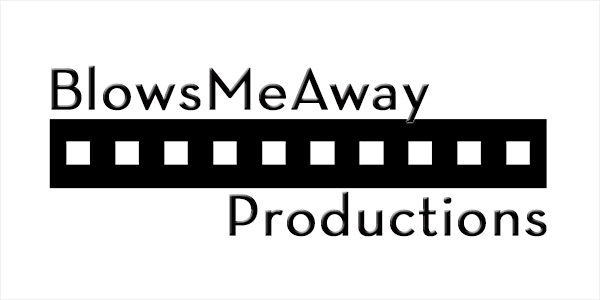 Zajac Custom Harmonicas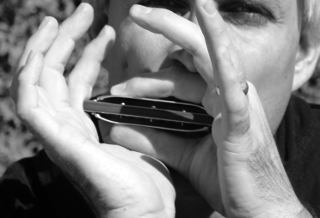 Pinegrove Leather

Your Instructor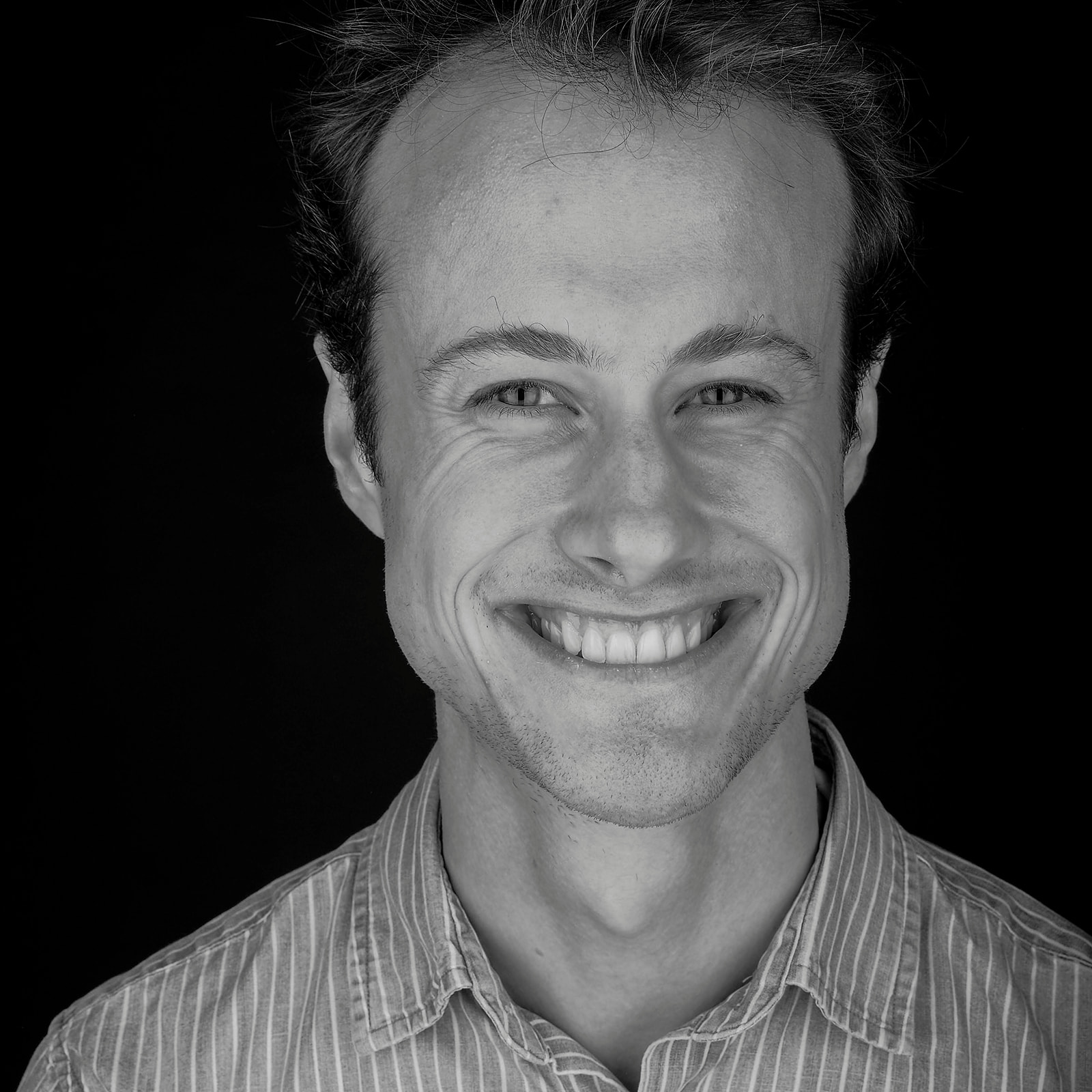 Tomlin is the owner of Tomlin Harmonica School which is the fastest growing Blues Harmonica School on the planet.

He will show you everything you need to start playing Blues Harmonica in a simple and easy-to-follow format.

Course Curriculum
Welcome to the Edinburgh Harmonica Workshop 2019
Available in days
days after you enroll